Shinto Wedding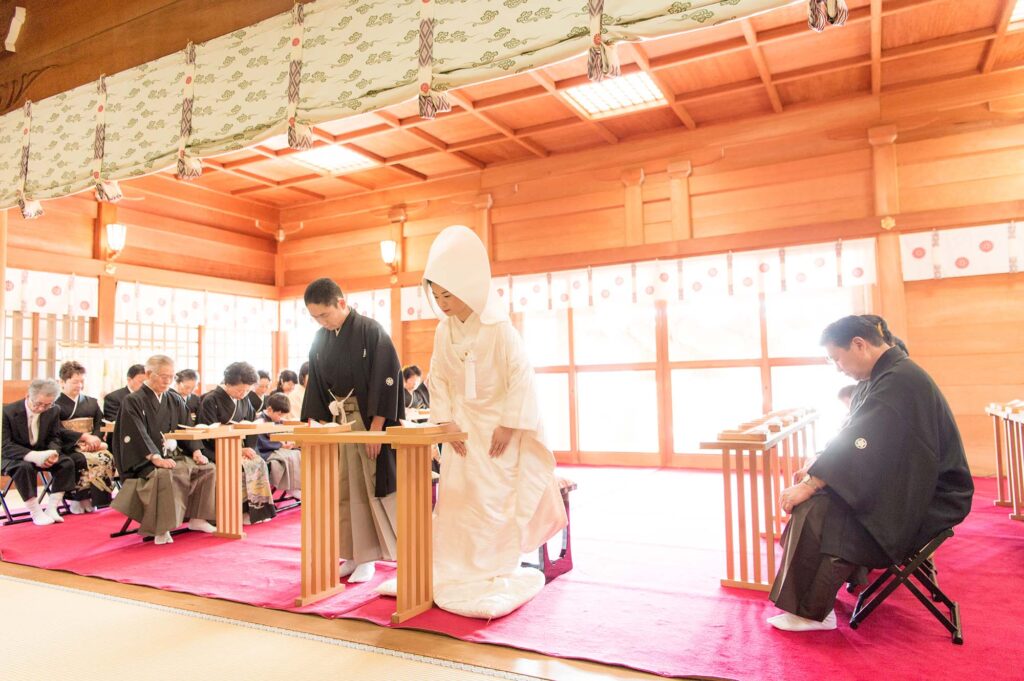 Rokusho Jinja enshrines Kushiinada-hime no Mikoto and Susanoo no Mikoto, who according to myth conducted the first marriage ceremony in Japan and who have long been revered as deities of matchmaking.
Traditional wedding rites performed before the main sanctuary of this venerable shrine have given joy to countless couples over the years.
Ceremonies may be arranged for a total of about fifty guests, from an intimate rite with just the couple in casual dress to a stately affair in full traditional attire. Let Rokusho Jinja bless the start of your new life together.
Shinto wedding ceremonies can also be arranged and conducted in English.
Wedding Fee and Special Prayer Services
80,000 yen
 
The order of service at a wedding ceremony
Sanshin (Procession)
Ritual musicians, Shinto priests, and a shrine maiden lead the bride and groom and the other wedding participants to the shrine.
Shubatsu (Purification)
At the beginning of the ceremony, a Shinto priest purifies the bride and groom, as well as the assembled congregation.
Norito-soujou (Sacred Pronouncements)
A Shinto priest recites the sacred text to announce the marriage to the deity and to seek the blessing and protection of the deity for the couple.
Chikai-no-sakazuki (Exchange of Nuptial Cups)
The bride and groom exchange nuptial cups three times and take three sips of sake from each cup.
Seishi-soujou (Vows)
The groom reads out the marriage vows.
Yubiwa-no-gi (Exchange of Rings)
Kagura-mai (Dedication of Sacred Dance)
A shrine maiden dedicates a sacred dance.
Tamagushi-hairei (Tamagushi Offerings)
The bride and groom make offerings of tamagushi (sakaki sprig) to sanctify their marriage.
Shinzokuhai-no-gi (Drinking the Rice Wine Together)
To strengthen the bonds between couple's relatives, sacred rice wine, dedicated to the deity, is shared among the wedding participants.
Taige (Recessional)